Thought I would shed some light on the "online" licence purchasing and tagging system now in effect.
First off, if you are going to purchase a licence online you will need a valid credit card, an email address, access to a computer with an internet connection, and a printer to print your licences. All of your online purchases will be made at
www.albertarelm.com
So make sure you register and have an account set up.
If you purchase a licence online that requires a tag(s), you must use an online paper tag. This is a paper tag identical to the one you currently get when you purchase your licence at a licence issuer (it should be noted that you can still purchase a licence and receive a tag at a licence issuer if you wish - you do not have to purchase online if you don't want to).
Below is what the online tag looks like.
You can pick up an online tag(s) at any Fish and Wildlife District office or Licence Issuers free of charge, or at any of the following locations:
In Edmonton:
Alberta Professional Outfitters Society
3802 - 49 Ave #100, Stony Plain, AB
780-414-0249
Alberta Hunter Education
#88, 4003-98 Street Edmonton, AB
780-466-6682
Alberta Fish and Game Association
6924-104 Street Edmonton, AB
780-437-2342
Information Centre Main Floor
9920-108 Street Edmonton, AB
780-422-2079
Sports Scene Publications
10450 - 174 Street Edmonton, AB
780-413-0331
In Sherwood Park:
Alberta Conservation Association
101-9 Chippewa Road Sherwood Park, AB
780-410-1999
In Calgary:
Alberta Hunter Education
911 Sylvester Cr. SW Calgary, AB
403-252-8474
You will need the online tag before you can purchase a licence at
www.albertarelm.com
.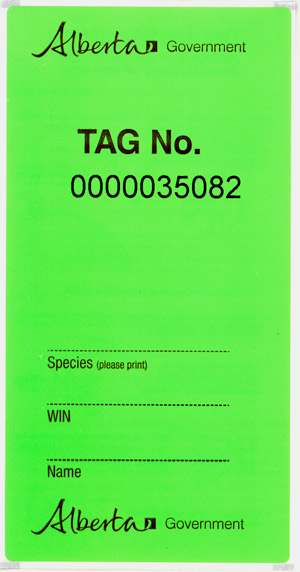 The online paper tag(s) contain a unique 10 digit tag number. You are required to enter it when making your purchase at
www.albertarelm.com
.
Print your licence once your purchase is complete. You do not need to wait for a licence to be mailed to you or go to another location to pick it up. If you lose your online licence, you can reprint the licence online at no cost.
Now all you have to do to activate your tag is fill in the blanks on the tag - Species, your WIN and your Name. Your licence (printed from
www.albertarelm.com
) will reflect the tag number you entered when you purchased your licence(s). This is why you need your online tag before making a licence purchase. Make sure the information you enter on your tag reflects the licence you purchased e.g; white-tailed deer, moose, elk etc.
If you are successful in harvesting an animal you purchased a licence for, then just apply your tag to the animal the same way you did in the past - with a wire. If you don't have a wire you can use just about anything as long as the tag is secured to the animal as stated in the hunting regulations under "Tagging".

If you have extra online tags do not throw them away, they can be used next year.

All yellow tags are no longer valid - only the "new" green tags can be used.

Hope this helps.