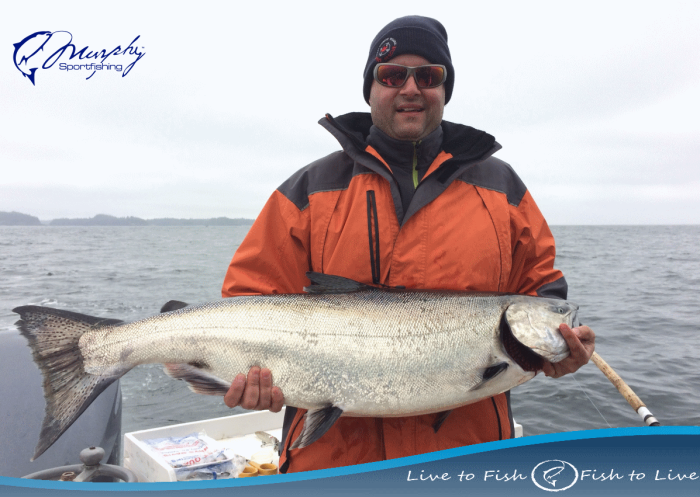 Some chunky Chinook showing up in this weeks mix. Today the three boats on the water landed ten salmon between them.
While to many these numbers sound high, the boats have been working really hard for them this week.
Fishing for Salmon nearshore has been the best spots so we haven't been targeting Halibut to much the last few days. But that will change real quick. We have had to work hard for limits again the last few days, while earlier in the week it was much easier! That's fishing....
Anchovies behind red or green fully rotating flashers have been the best bet. As usual fishing just off the bottom in depths around 120 feet deep. Fishing on the tide changes has been the best bite times, but regardless of time of day there is usually Salmon hunkered down deep so don't be afraid to stay down near bottom.
The winds out of Uculelet are still in a Westerly pattern since inland temperatures as so high but a fog bank has helped keep the winds down in the areas we are fishing. Up on the North end of Vancouver Island there has been some pretty steep westerlies. The weather is supposed to change this week so look for that system to move some fresh fish in and keep the winds away.
Our team is on the water daily now so feel free to email us to check in any time.
~~~~~~~~~~~~~~~~~~~~~
Learn More about
Fishing in Ucluelet
with Murphy Sportfishing.