This weeks Highlights:
Water conditions improved with the rains this last week, it was coloured up pretty good in the lower but the upper remained fishable through out the rain. Many fish are spawning now, so there is a mix of fish that have spawned and are on their way out and fish that are staging. So some darker ones along with some brighter ones in the mix. Same for the lower river, the fish are mixed. You can see by the colours of the fish in the photos below that the transition has begun. This is our last week for guiding this season and our final trip is on March 31st.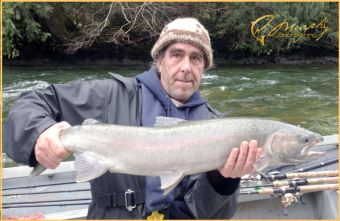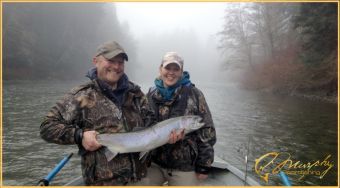 Current Conditions:
Medium Conditions right now with some darker areas where creeks are running into the mainstem.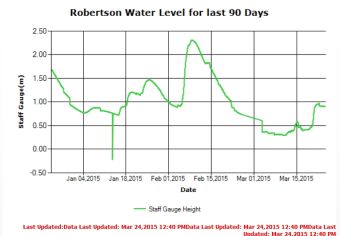 Note that the charts below are measured at the Robertson Creek Hatchery which is in the upper river so conditions down stream can be very different.
High Overcast with light rain showers.
Call us anytime for the latest conditions! We enjoy helping anglers plan their trips with or without guides.
*Remember to get your NEW fishing licenses effective April 1, 2015
This is transition time for both the Steelhead and our guiding services. As the Steelhead start to spawn and head back out to sea, our team switches gears as well. We turn our efforts back onto Vancouver Island's Wild West Coast. You will be hearing reports from us from Ucluelet in Early April through May, then Kyuquot during the Summer.
**Looking to plan your summer fishing vacation, be sure to check out Kyuquot Sound! That is where have been going for the past 20 years. Learn more from our most recent online newsletter which includes our summer calendar
http://conta.cc/1F5zBHq***
Marilyn Murphy
For the latest info visit at
http://murphysportfishing.com/site/fishing-report.html
for river level charts, local weather expectations, and more.
Call anytime for updated conditions 250-723-8022
http://murphysportfishing.com/site/s...er-winter.html
www.facebook.com/murphysportfishing